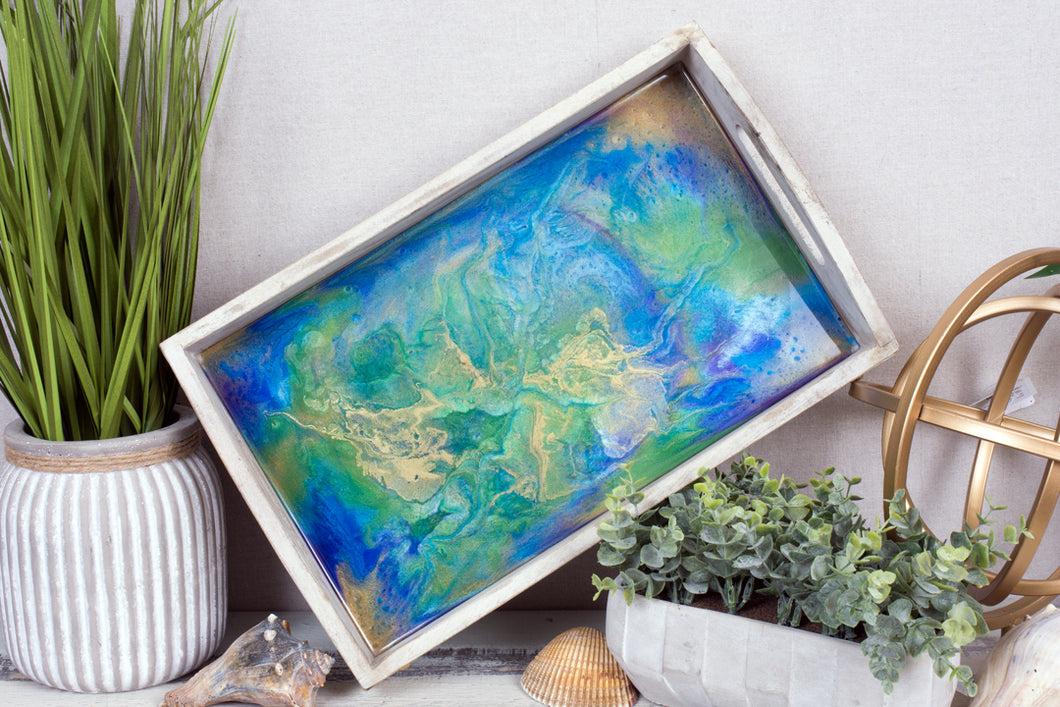 Rectangle Serving Tray - Sold
DETAILS
SOLD
* Title: "Rectangle Serving Tray"
* Size: 10"x 16"x 2" (25.4cm x 40.64 x 5.08cm)
* Original, Modern Abstract
* Style: Abstract
* Materials: Wood Serving Tray, Resin, Mica Pigments
* Impress your guests with this stunning light colored wooden Tommy Bahama rectangle tray. Inside on the bottom there are several coats of mica pigmented resin in different shades of blue and green with gold. 
*  Hand-painted, one-of-a-kind. Beautiful, vibrant, wonderful focal piece!. The visual quality of this painting is stunning in both indoor, and natural light.
* Decorative items pictured not included with purchase.
SHIPPING
Providing timely, reliable shipping and SAFE DELIVERY of your valuable, new artwork is something that we take great pride in.
Your professionally packaged painting will be shipped via UPS for domestic US orders within 3 business days of purchase.  Normal transit time is 5-7 business days.  If you are in need of expedited service, please contact prior to purchasing, and we will quote you express shipping rates/times.
Contact for Canada, Alaska, Hawaii and International shipping costs prior to purchase.